Template Overview
Edit
No Agenda ##: "TITLE IN QUOTES"
When creating episode pages please use this format to promote consistency across the wiki. Click "Edit this page" to see the formatting used.
Thanks for your help in expanding this wiki! BrianCMasi 03:52, 18 May 2009 (UTC)
Page Format
Edit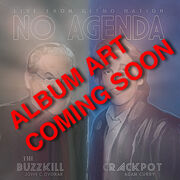 Until you can add art, please use this coming soon placeholder, file:ARTCOMINGSOON.jpeg
"If there is no art available, please use this unavailable placeholder, File:ARTUNAVAILABLE.png"
Episode for WEEKDAY MONTH DAY, YEAR
[Listen to this episode]
The direct link for the episode goes here, after the opening bracket, with a space before "Listen to this episode"
Show Notes
Edit
HELP EXPAND THIS PAGE BY INSERTING SHOW NOTES HERE
Show notes for the episode should be placed here, if they are available. If they are available, but you plan to place them later, please use something like above.
Show notes are not available for EPISODE PAGE TEMPLATE at this time.
If it seems that there are no show notes for the episode use a placeholder like the one above.
Ad blocker interference detected!
Wikia is a free-to-use site that makes money from advertising. We have a modified experience for viewers using ad blockers

Wikia is not accessible if you've made further modifications. Remove the custom ad blocker rule(s) and the page will load as expected.