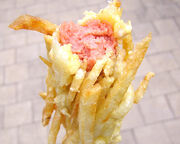 Episode for Thursday June 18, 2009
Show Notes
Edit
John's Connection Blows. Twitter @comcastcares
Iran is a massive mainstream media scam
Is 'Police' spelled 'Police' in Farsi?
Dollar Coins? Pochahantas
Mission Burritos make AC comatose
HEMA underwear contains nano technology!!
Airbus Crash theories
Airbus vs Boeing wars continue
A plausible cause:
Russian scientists determine link between Swine (Mexican) Flu and French Fries!
South Park Tourette Syndrome Episode
Letterman 'controversey'
Info Bimbos
Erin Burnett has saddlebags
Lindsey Lohan 'Real News' debunked
Air travellers with rollie-bags and backpacks should be suicided
Jet Blue Rocks
Other Links
Edit
Ad blocker interference detected!
Wikia is a free-to-use site that makes money from advertising. We have a modified experience for viewers using ad blockers

Wikia is not accessible if you've made further modifications. Remove the custom ad blocker rule(s) and the page will load as expected.