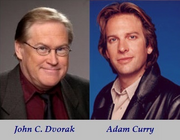 Episode for Saturday December 29, 2007
Show Notes
Edit
Our holiday travels plus great food and wine
Pakistan conspiracy theories
Police entrapment, the Thought Crimes Bill and NFL football
"By and large" rant (you heard it on Cage Match first)
The future of VOIP
We discuss a new idea: the podcast blog (by and large)
Ron Paul, the writer's strike
Is the Internet really the Matrix? Adam predicts!
Ad blocker interference detected!
Wikia is a free-to-use site that makes money from advertising. We have a modified experience for viewers using ad blockers

Wikia is not accessible if you've made further modifications. Remove the custom ad blocker rule(s) and the page will load as expected.