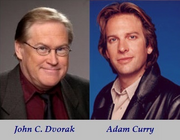 Episode for Friday January 4, 2008
Show Notes
Edit
Storms in San Francisco and we're unprepared for this show
Flu epidemic in London leads to...
Hot chiles and food fun for John
More RIAA: Was the "If you rip a CD to your HDD, it's illegal" statement misquoted?
The new TSA "SPOT" program - you heard it on CM first!
We discuss the new sales figures, desktops vs. laptops
The origin of Al Qaeda, meaning "The Database," is from... the CIA?
How many pints for lunch? Cultural differences
Commercial aircraft and new onboard defense systems
What's a caucus? More political predictions.
Ad blocker interference detected!
Wikia is a free-to-use site that makes money from advertising. We have a modified experience for viewers using ad blockers

Wikia is not accessible if you've made further modifications. Remove the custom ad blocker rule(s) and the page will load as expected.