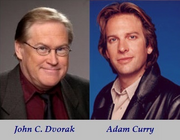 Episode for Saturday January 19, 2008
Show Notes
Edit
The Financial Times, Chinese money and world-wide tax laws
John: Why I'm not rich: penmanship!
Adam on the 777 accident at Heathrow
Textra's Natalie del Conte comments about John
Our Twitter rant
Who is Esther Dyson and who is her sister?
The BBC vs. Washington Post
Can hackers shut down power companies?