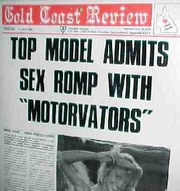 Episode for Sunday March 23, 2008
Show Notes
Edit
Mavericks at JP Morgan and Bear Stearns
The Canadian dollar, Spitzer and the war
Patricia judges "Holland's Got Talent"
Phorm ads - the end of ISPs and security
Obama, Hillary and Rush Limbaugh = Operation Chaos
Is Hillary bossy and profane to her Secret Service?
Ah, the dollar, what's next? Predictions.
Spitzer was hard, er, harsh on crime
OMG, it's porn city! With 1,000s of pictures!
John, what's the deal with Tibet??
Blame the Olympic Committee
Let's decode another John C. Dvorak list:
Shall we discuss ... laundry detergent?
The tongue story
A glassware mess
Do you live in a Four Seasons house?
Argentine ants (and chicken bones)
My fish is bigger than your fish
Vasectomies!?! Now let me get this straight...
Dogs get scraps
Intermission - John's Deli
San Tuku / Ross: What is it?
Crunchy hot dogs
Ad blocker interference detected!
Wikia is a free-to-use site that makes money from advertising. We have a modified experience for viewers using ad blockers

Wikia is not accessible if you've made further modifications. Remove the custom ad blocker rule(s) and the page will load as expected.