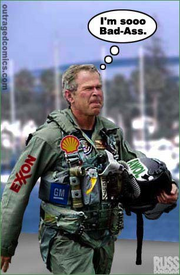 Episode for Saturday May 17, 2008
Show Notes
Edit
Some weather, some instrument flying and we're off to -- the real meaning of No Agenda and the speeds of Skype. What, we have production critics? Now we're going to fry the photographers, too (except for one).
What do Thomas DeCrick and all these news stories with English slang and American politicians have to do with Neville Chamberlain and Hitler? How about some unshakeable "tags" for Obama, Hillary, Bush, and more? John's long term political strategy is revealed. Adam claims the average voter won't even understand. John asserts the Republicans really have the edge on marketing, but his list of "appeasement phrases" shows the Democrats have their moments, too.
Adam inquires about the TTPR - the Truth To Power Ratio. John wants to invent the TTPR algorithm and how, if you listen to this show, you're on top of the appeasement meme and the propagandist machine.
Find out about Adam's strange jobs. What does this have to do with Chinese toothpaste? And why are we complaining about TCP/IP AT&T phone calls? Adam explains; hear John's quote of the show.
How do we get to skateboarding and scooters? John gets cranky about helmets, Adam rides a skateboard and we're a generation of wimps. Adam segues to his favorite TV topic and why we should forget about this PC stuff. John asks, "What happened to the "stage hook? Where are the tomatoes?" Adam and John come up with a new Mevio show.
John changes his mind about cameras with GPS, and Adam expands this to the pocket tour guide. Very cool. How about the "No Agenda Visit Pack?" We hear about some great places to explore. Why not include the speed traps updated daily for your cell phone?
Bordeaux in a box -- the last straw in French wine (har!), including the straw with 4 holes for that "tasting wine out of the glass effect" on the palate. Oh, Good Grief! Here comes the restaurant test. John blames the 46% drop in French wine consumption on... There's a patent on this straw? We'll get some of these wines and report back. (Oh, no! Homework!)
Ad blocker interference detected!
Wikia is a free-to-use site that makes money from advertising. We have a modified experience for viewers using ad blockers

Wikia is not accessible if you've made further modifications. Remove the custom ad blocker rule(s) and the page will load as expected.