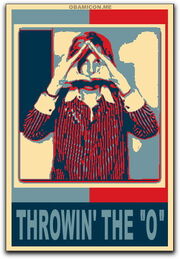 Episode for January 17, 2009
Show Notes
Edit
Throwin' the "O" and what can your government do to you, it's time for No Agenda!
We're starting with wrestling, current and past; who remembers the Sheik? Who remembers the XFL?
Adam brings up the inauguration. Don't forget to throw the "O", the Obama salute.
Dexter gets a lap dance.
John reviews Battlestar Galactica. Hmm, a 2,000 year old Armani suit and tie.
The media is ready to turn its photographs into the Obama cream, red and blue motif. John has the URL.
German measels leads into an outbreak of rabid raccoons in the US.
Was the recent U.S. Air crash really caused by a flock of geese? We discuss other aspects of the crash.
There might be a stop to the campaign speeches. Maybe.
The stimulus package and tracking the dollars: oh, boy, renewable technology.
Adam reads some interesting quotes from the stimulus package document, and how the money is earmarked. Don't miss this.
On tape: Congressman Alan Grayson grills the Federal Reserve Vice Chairman.
Are we going down the same road as Zimbabwe? Expect the $100,000,000,000 dollar bill soon.
John's interesting railroad economic indicator.
Germany's internet to be filtered to protect the "children."
Man arrested for Obama assasination plot, according to Press TV. Why didn't we hear about this?
The world economy as a fractal.
Saltwater burns. John laughs.
Off we go into satellite, local stations and the slingbox. Who wants a Russian feed?
Have you got your TV converter coupon yet? What a gorgeous credit card (and govt. waste).